Hello Friends! Friday is upon us and the weekend is just around the corner. I've been a little out of the blogosphere the last couple of weeks but am intent on not falling away entirely. It's just been a little more hectic than usual and honestly, I've just chosen sleep over blogging time. :)
So, to briefly catch you up on this week's highlights, I'm going to join in with the fabulous ladies that host Five on Friday.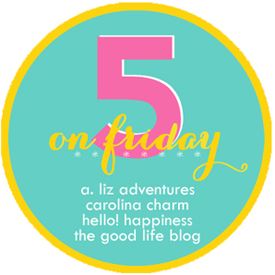 ONE
First and foremost, I want to thank each and everyone of you for your prayers this past week. Little Man's procedure went really well. They put in his second set of ear tubes and went ahead and removed his adenoids to hopefully prevent the need for a third set of tubes down the road.
It worked out that I had to handle this one solo. As I was sitting in the waiting room, I was getting dings on my phone with encouraging messages - it truly was a blessing. Thank you.
The doctors and nurses said he'd probably have a lazy weekend and need to eat soft foods for a couple of days. God answers prayer - because he was wild enough to shoot at after his afternoon nap and eating normally by the time we returned home. God is good. :)
TWO
Does anyone else watch NCIS? It is hands down my favorite show, maybe ever. I had a really hard time saying goodbye to Ziva this week. I'm glad though, that they finally confirmed the love between her and Tony. Even if we won't get the opportunity to see it play out, it was a nice way to say farewell. And I'll admit, I cried.
THREE
We celebrated our 6 year anniversary this past week! Thanks to family, we enjoyed a dinner date out, just the two of us. I spent one afternoon going through old pictures. As I looked at our early days photos, I couldn't help but ask myself "what happened to us?" My husband's hair is much whiter and I'm quite a bit heavier. Basically though, we do not look youthful anymore. We are adults... but I'm okay with that.
FOUR
I'd like to shout out Congratulations to the
Starbucks Gift Card Winners
! I really appreciate each and every single entry and am thankful for all of your support. I had a lot of fun and could totally see me having another one soon. :)
And the winners are... Jennifer Engel, Renee, and Rosey Marie.

FIVE
And last but not least, I am really excited and honored to share with you that I received The Sunshine Award this week.
Kristen from Happiness is a Mood Not a Destination
bestowed this upon my blog. How exciting is that?! Thank you Kristen! I'll get a post up about it soon.
Hope your weekend is lovely!
As always, thanks for reading.
Kate
October 4, 2013